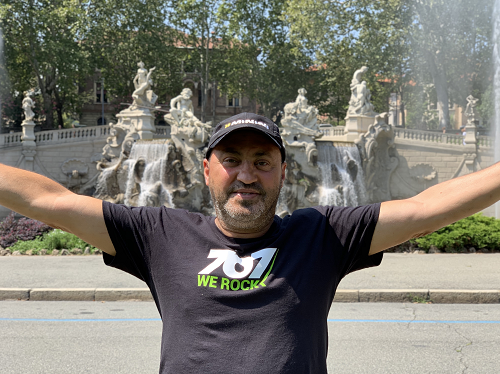 Germano Raddi: my story of love and triathlon.
Faced with a more or less important tragedy, each of us has his personal reaction. There are those who fall into the deepest distress and those who, like me, had another kind of reaction.
That morning I was doing what I loved the most. It seemed like an everyday workout, cycling through the streets usual, but something was going to happen that will change my life forever. A car swept over me, forcing me to spend the following months in a hospital bed, taking away from me the chance to run and practice triathlon for ever.
I began to imagine that I could continue to face my small challenges and reach my peaks with the legs of others, win with the hearts of others and continue to live the emotions through their stories. Just like I do every Sunday in winter, when I accompany my son to ski (which was one of my biggest passions like triathlon) and I'm there waiting for him all day and then share descents, jumps and falls with him. Listening to my son's stories makes me relive the same emotions that I felt when I ski, I really enjoy it and it makes me happy.
For a dreamer like me, I see the life as a journey pleanty of dreams to follow and trying to realize them is equivalent to live.
So, when my life suddenly took a different and unexpected path, I decided that my new job would have been to continue to realize my dreams, but full time!
I started by contacting old triathletes friends and young talented athletes that I knew marginally, discovering that without a team ready to support them, they could not continue to do triathlon, to follow their dream.
This i show I started working on the project that I had in mind, and I created the Team 707, nowdays one of the best team and triathlon school in Italy.
Now my goal is to create the best possible conditions for my guys, in order to offer them the opportunity to express their talent and live on what makes them happy.
A bit like what I dreamed of, too, and I continue to do in this new form.
My project is to make these guys an example for all people, to have courage in daily difficulties, to learn, to sweat, to reach their goals, because, as it should be, they continue to dream.