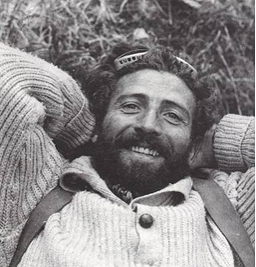 Herman Buhl, a descent all uphill
Where does the climb end? When I was little I was so frail that at the orphanage they almost didn't let me out for fear that I would get sick. So one day with a pair of shoes and the clothesline I ran to the mountains. Since then I've always lived in heights …
Everyone reminds of me for being the first to climb two mountains above eight thousand, the first in a fast and light style: no high-altitude carriers, only the tent in the backpack, in complete autonomy. As a cyclist on the run I have always loved climbing alone, fast in my lightness.
But the most beautiful undertaking I made in 1952, starting by bicycle from Innsbruck (Austria) to climb the famous Pizzo Badile in Val Bregaglia (Switzerland). I had two days off before going back to work and I gave what I could in the 170 km of poorly paved roads. The wall was a thousand meters high, rather vertical and scaled in 3 days. Only and without rope I climbed it in 4 hours …
In the hurry of return, perhaps out of fatigue I fell asleep on the pedals ending up in the river Inn. There was little that you drowned at home and since then I have understood that the top of the climb is nothing more than a turning point.
Life, love, are continuous ups and downs made of hard climbs and dangerous descents.
The only real goal is to get home.
Vittorio Mazzocchi