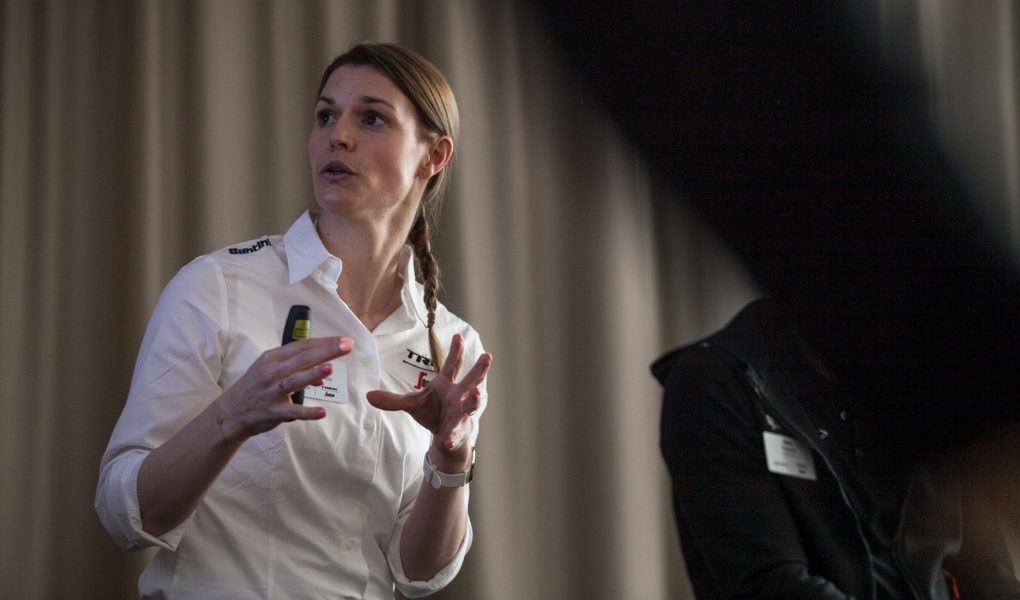 Behind the scenes vol.2 – Trek Segafredo Nutritionist interview
Fuelling the track powerhouse to ensure adequate nutrition to prevent injury? Check.
Managing a dramatic weight reduction to allow the most efficient deployment of that same power on the vertiginous slopes of the Alps and Pyrenees? Check.
We have met Trek-Segafredo Nutritionist Stephanie Scheirlynck to discover more about a pro rider nutrition during a GT.
Tell us why nutrition is so important in a long race like Tour de France?
Riders get their energy from their nutrition, so every calorie needs to be refilled. Not only the total amount of energy, but also what they eat is important. It's like your car needs enough and the right fuel. Nutrition also plays an important role in the recovery, so that the riders are ready for the next day of racing, and this goes on for 3 weeks.
How do you change the nutrition according to weather, physical conditions and team strategies in the "Day By Day" of Tour de France?
We use a race nutrition system, which changes day by day. We know the profile of the stage and we adapt the nutrition to this. A time trial will be different than a long, flat stage vs mountain vs hilly stage. A rider who has been in the breakaway will also eat differently than someone who had an 'easier' day.
The rest day: how do you change the nutrition and which are the key foods used by the team?
On a rest day the energy expenditure is lower and the riders will need less. They still need to recover from yesterday and reload for tomorrow. It will be a healthy day with fruit and vegetables, but also oats, rice, bread and some protein like fish, chicken and eggs.
Tell us which are the most functional foods used by the team at Tour de France (proteins, carbo, etc…). How much is breakfast important in respects to dinner? How many times do athletes eats during the day? During the night, before sleeping, do you suggest some tips?  How many calories they need to consume per day?
A typical day will be like:
– Breakfast around 8AM: fruit, oats, muesli, yoghurt, rice milk, eggs, pancakes, bread, jam, cheese.
– Fuel on the bike: sports drinks, bars, gels, bananas.
– Recovery shake at the finish line + recovery snack in the bus (pasta or rice salad for example).
– Dinner around 8PM: depending on today's and tomorrow's race, for example: salad or soup, chicken, fish, (sweet) potatoes, rice, all kinds of vegetables and dessert.
How do you fix the nutrition according to goals of each rider?
We work on this when they are on training camp or at home, so that it becomes automatic.
About the caffeine: What is its role in a pro rider nutrition? Are there particular UCI restrictions about it? Does Segafredo coffee has something special in this way?
Caffeine used to be on the 'forbidden' list, but it's been allowed for a long time now.
Riders drink coffee before the race (breakfast and in the bus), and 'refill' on caffeine by using caffeine-gels during the race.
Caffeine is also well known and used in cosmetics for its lipolytic and draining properties. Bend36 Toning Gel is made unique by containing a calibrated blend of Caffeine and Escine: it is a gel studied for slimming critical areas as abdomen and reduce excess of fluids.
Bend36 complete range of skin care solutions created by Alberto Contador and Ivan Basso for all athletic people.
Certified by Play Sure Doping Free, ensuring the absence of all substances banned by the World Anti-Doping Agency (WADA), it's the best solution to live your best performance.